Working together to protect you, your home, and our relationship
Specially Maid Service Policies
The following policies are in place for our mutual benefit. Just as good fences make good neighbors, good policies make good business relationships. Respect for these policies ensures that we are all protected. Please review them and understand that when you approve a quote from us, you are agreeing to the terms outlined in this document.
Time References
For the sake of consistency and accuracy, this document may use various terms such as 'scheduled visit' or 'appointment time' to refer to the scheduled time of your service. Please note that all references to these terms should be understood as 8 AM on the day of your scheduled service. 
Privacy and Confidentiality
We process your Personal Information only to the extent necessary for the performance of our obligations to you, which is in providing home and/or business office cleaning services. Specially Maid and it's employees, business partners, affiliates, or agents will not use your Personal Information for any other purpose without your consent. We will not actively collect Personal Information for the purpose of sale or marketing in a way that specifically identifies the individual. To put it another way, we will never sell or distribute our customer lists. You may withdraw your consent to our processing of your Personal Information at any time. However, withdrawing consent may result in your inability to continue using our services.
Keys
If you or someone you designate is not able to personally give access to our team for their scheduled visit, a key or entry code may be required. If keys are given, they will be tagged with Specially Maid contact info and a code that corresponds to your property in our database. In the event of loss, we do not replace keys or rekey locks. Lockbox combinations, keyless entry systems, and garage door overrides that are given to us are recorded in our database, and provided to the assigned cleaner(s) on the day of service.
Arrival Times
There are many factors that affect our schedule. Therefore, it is necessary to keep our arrival times fluid. Our staff will arrive between 8 AM and 2 PM on your scheduled day. Email reminders are sent out 72 hours prior to your scheduled visit, and our staff will send an "on-my-way" text message when they are en route.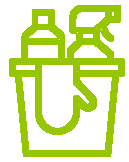 Supplied Products and Equipment
Each of our teams is outfitted with everything they require to complete your cleaning service.¹ Everything that touches your surfaces is either new or freshly laundered before bringing it into your home. Vacuum cleaner dust bins and brush rollers are cleaned and inspected before each use.
¹ We bring everything except a toilet brush. Clients are required to provide a toilet brush in each bathroom (or on each floor) in order for us to clean inside the toilet bowl(s). A $15.00 charge will be added to your invoice if a toilet brush is not present and the staff must provide a new one.
Deposits
We require a 50% deposit on all new bookings. This allows us to operate with some degree of certainty when scheduling. Given 48 hours notice prior to your scheduled visit, we will reschedule at no charge, but please note you risk losing your deposit if the service is canceled outright, or if less than 48 hours notice is given. There is no obligation to leave a deposit for recurring services after the initial cleaning is completed. Our payment, lockout, and cancellation policies still apply.
Payment
To ensure prompt payment for our services, a credit card must be kept on file. Upon completion of each visit, invoices will be charged automatically and receipts will be sent via email. For those who prefer to use Interac E-transfer, we ask that payment be made at least 24 hours prior to the scheduled visit. Our receiving address for e-transfers is [email protected]
Lockouts
In the event of a lockout, we will try every means available to us for up to 30 minutes to contact you and arrange for entry. This time will overlap with your service start time, so our staff may remain on schedule. If after 30 minutes we still cannot gain entry, we will charge 100% of the invoice and the service will need to be rescheduled. Electronic locks that do not function due to cold weather or weak battery will also result in a lockout condition. 
Cancellations
Maintaining a secure and dependable work environment for our staff is a critical component of providing high-quality cleaning services. We understand that cancellations may occur, but we kindly request that you give us as much notice as possible to minimize any negative impact on our staff.
Cancellations made 48 hours or more before the scheduled service will not incur any additional fees. Cancellations made within 48 hours of the scheduled service will result in a fee of $100 or 50% of the total service cost, whichever is greater. For lockouts, turn-aways, or cancellations made on the day of your scheduled service, 100% of the service cost will be charged. Again, please give as much notice as possible, if arrangements can be made we may be able to reduce or waive any cancellation fees. 
Ease of Ingress and Moving About
Please make sure that all access paths to, and through your home are free of obstacles and burdens such as ice/heavy snowfall, debris, bicycles, tools, toys, etc. This includes driveways and walkways leading to the residence. If our employees are unable to safely enter and move about to complete their duties, the job may need to be canceled and 100% of the invoice total will be charged.

Biohazards
Our team will not clean biohazardous material. This includes (but is not limited to) vomit, feces, urine, pest infestations, animal nests, and carcasses. We reserve the right to immediately cancel the visit and leave the property if our staff feels at risk due to biohazardous conditions. 100% of the invoice total will be charged.

Floors
We take great care in cleaning floors and are always conscious of the potential for marring and scratching. Moving furniture and appliances is part of a good cleaning routine but also carries the risk of damaging floors. Clients are responsible for ensuring furniture to be moved is on scratch-free pads. Additionally, heavy or awkward furniture/appliances may not be moved if doing so poses a risk to the employee's safety. Please discuss how we should handle furniture moves prior to our first visit.

Breakage
In the event that something gets damaged by us during our visit, we will repair or replace the item at no charge. Our employees will document the incident and notify you immediately. If you are not available, a copy of the incident report will be emailed to you. Our management team will then work with you to determine compensation. We limit the maximum extent of our liability to the value of that service visit. If the replacement value or repair cost exceeds this value, we are unable to offer further compensation.
Note: Some items are priceless and irreplaceable. We ask that you please put these items away before our visit, or leave instructions to steer clear of them to avoid accidental breakage.
Guarantee
We guarantee the work done by our cleaners will meet your expectations. If you have concerns, please contact us within 24 hours of your completed service to arrange a no-charge callback. The job isn't done until you are 100% satisfied.
Insurance
We maintain a $2,000,000 general liability policy with fidelity bond and commercial property rider at all times. We will also ensure that our WCB Alberta account is up-to-date and that all employees are covered for workplace injuries.
Referral Rewards Program
Our existing clients are the most powerful resource for growing our business. The Specially Maid Referral Rewards Program is designed to show our appreciation for introducing our services to others. When referrals become new clients, the referer is entitled to one of our 50/50 rewards. Referral rewards are non-transferable and are not refundable in cash. In order to receive referral rewards, the referred client must be invoiced for a completed service and pay the outstanding balance. Specially Maid reserves the right to change the value of our Referral Rewards or discontinue the program at any time.